If you're like most homeowners, you want to get the best price possible for your home when you sell. This means staging your home so that every space, from the front door to the basement, looks (and feels!) fresh, welcoming, and updated. The end goal? To allow potential buyers to envision their new lives within your home, free from the distractions of clutter, unchecked maintenance items, and objectionable decorating choices. There are many different tips for doing this, and in this blog post, we'll discuss some of the most important ones. Read on to help ensure that your
Palm Beach Gardens home
sells quickly and for a great price!
1. Review each room's layout
When planning to list your home among other Palm Beach Gardens homes for sale, start by looking at each room with a critical eye. Are there areas that are overcrowded and cluttered? Are there areas that are too sparse or feel unfinished? Identifying these areas in your Palm Beach Gardens real estate is the first step to knowing how to improve them. Make a list as you go through your home so you can come back and address necessary changes after you've completed your review.
2. Remove clutter
One of the biggest mistakes homeowners make is not removing enough clutter before listing their property. Crowded surfaces make a space feel small and cramped, and it can be off-putting to potential buyers.
Go through each room and remove anything that's not absolutely necessary. This includes items like extra furniture, knick-knacks, family photos, and wall art. You want buyers to be able to imagine their own belongings in the space, and too much personalization can make that difficult. Don't forget to declutter oft-overlooked surfaces like walls and shelves, too. These areas tend to collect a lot of dust and can make a room feel much smaller than it actually is.
If you have trouble deciding what to keep and what to toss, consider renting a storage unit. This will give you a place to put things while your Palm Beach Gardens real estate is on the market, which will make the decluttering process easier.
3. Clean everything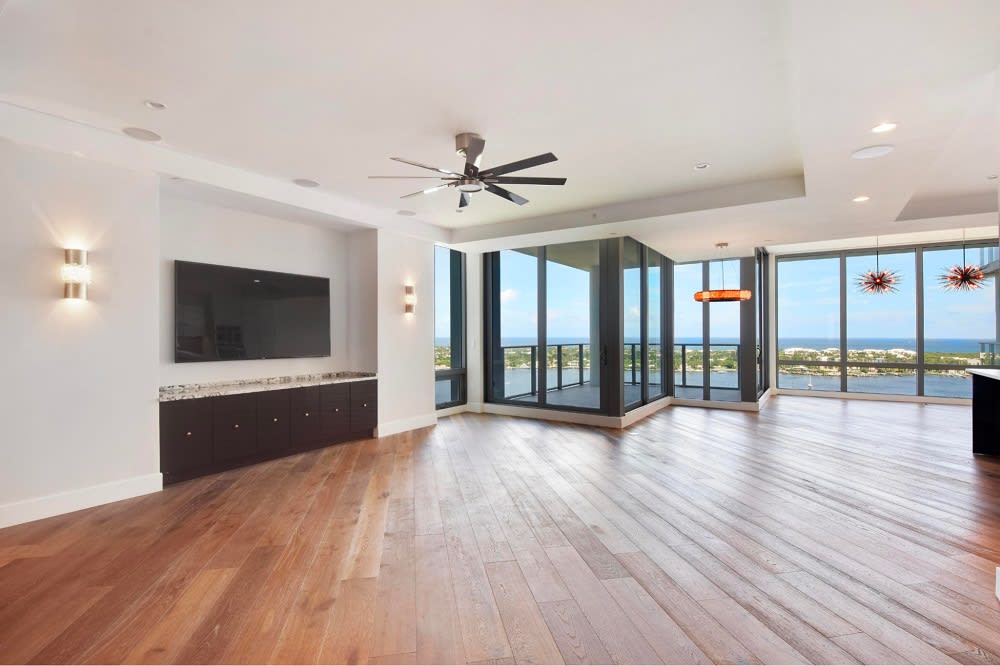 Once you've removed the clutter from your Palm Beach Gardens real estate, give every surface and corner of your home a thorough cleaning. Freshly cleaned
Palm Beach Gardens homes for sale
feel more spacious and inviting, which is exactly what you want when selling. Pay special attention to baseboards, light fixtures, and blinds; these are often overlooked but can make a big difference in how clean your home looks.
If you have pets, it's also important to do a deep cleaning before showings or open houses. This includes shampooing carpets, cleaning pet beds, and removing pet toys and bowls. You want buyers to be able to focus on your home, not the fact that there are pets living there.
Hiring a professional cleaning company is always an option if you don't have the time or energy to do it yourself. This is especially helpful if you have a lot of square footage or live in a multi-level home.
4. Make repairs and design improvements
When
staging
Palm Beach Gardens homes for sale, your efforts will fall flat if there are any major repairs or design improvements that need to be made. Be sure to address any of these areas before listing your home. This may entail replacing outlet faceplates, painting walls, repairing holes or cracks, and updating light fixtures.
If you're not sure what needs to be repaired or updated in your Palm Beach Gardens real estate, we recommend hiring a professional home inspector or staging consultant. The team at Vicki Rosenfield Leibowitz Realty Group is happy to connect you with local industry experts. These professionals can help you identify any areas that need attention and give you specific recommendations for improvements.
5. Rearrange furniture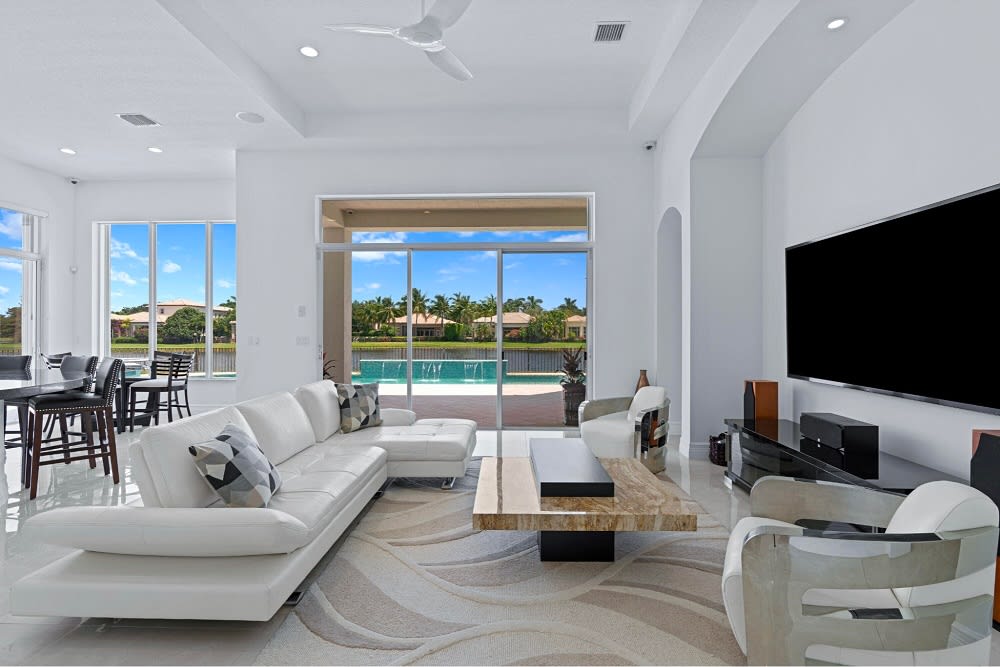 Once you've made all the necessary repairs and improvements, it's time to start thinking about the
aesthetic
of each room. This is where you can really make your home shine among other Palm Beach Gardens homes for sale!
Start by rearranging your furniture. This will help create a more open and inviting space. Be considerate of walkways and foot traffic flow when arranging furniture, and try to leave at least 16–18 inches between pieces.
Is your existing furniture and decor outdated or in poor condition? Don't fret.
Renting furniture
for the purposes of home staging is always an option. This can be a great way to add some extra pizzazz to your home without breaking the bank.
6. Update decor
After your furniture is in place, it's time to start thinking about the smaller details to help your
Palm Beach Gardens real estate
attract high offers. In addition to adding or replacing window treatments, updating pillows and throws, and changing out light bulbs, be sure to place a few potted plants throughout your space. Plants can really brighten up a space and make it feel more inviting. Choose
low-maintenance varieties
that won't require a lot of care while your home is on the market.
When tweaking your decor, remember less is more. You don't want to overwhelm buyers with too much color or pattern. Stick to a few simple design elements and a neutral color scheme to allow your home's character to take center stage.
7. Work with a professional
If you're still feeling unsure about how to stage your home, consider working with a
professional
. A good stager will be able to give you specific advice and guidance tailored to your home. They can also help you come up with a game plan and make sure everything is taken care of before listing your home.
You should also consider working with a local real estate agent like
Vicki Rosenfield
of the Leibowitz Realty Group. A real estate agent with experience in the Palm Beach Gardens real estate market will have a wealth of knowledge about comparable sales and can help you price and market your home to fetch top dollar. Ready to buy or sell in Palm Beach Gardens? Contact Vicki today!